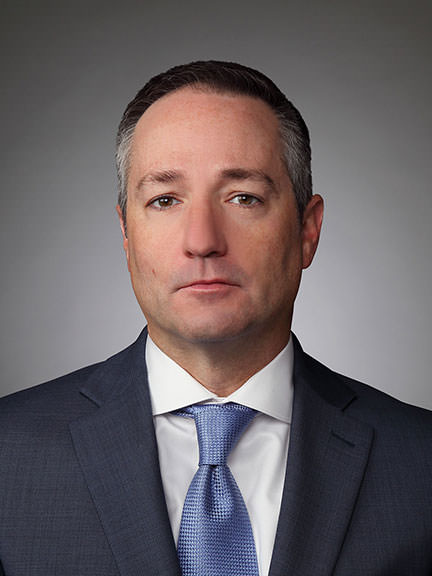 Max K. Jones, Jr., Partner
Max joined the firm in 2004 as an associate and became a partner in 2008.  As a partner in the firm,
Max counsels numerous insurance carriers on first and third party coverage issues and defends carriers in coverage and bad faith litigation. He also specializes in handling claims involving product liability, premises liability, toxic torts, auto and trucking accidents, and personal injury defense. Max has successfully handled complex, high exposure cases, which have often involved numerous plaintiffs and subjected clients to significant exposures in excess of available insurance coverage. He has also defended clients against multiple claims and/or lawsuits arising out of the same incident or course of conduct. Often his cases involve claims for punitive damages, claims pursuant to the Colorado Consumer Protection Act (CCPA), and Colorado's statutory insurance bad faith statutes, C.R.S. 10-3-1115 and 1116. Max is recognized for his ability to strategically deal with multiple attorneys and parties in complex cases. 
Max is licensed in both Colorado and Louisiana, where he practiced for five years before relocating to Colorado.
Max has been named to the Colorado Super Lawyers List.  He is a member of the Association of Defense Trial Attorneys (ADTA).  He is involved with the Defense Research Institute (DRI) as a member of the Insurance Law and Product Liability committees, and has, on occasions, co-authored the Colorado section of DRI's Insurance Bad Faith: A Compendium of State Law. Max is also a member of the Colorado Defense Lawyers Association (CDLA).  Since 2015, Max has been on the faculty of the Colorado Bar Association, where presents the Insurance Law Update at the Annual Colorado CLE – Tort Law Update
Insurance Coverage and Bad Faith
Products Liability
Auto and Trucking Accidents
Personal Injury Defense
Toxic Torts
Premises Liability
United States District Court, District of Montana, 2014
United States District Court, District of Wyoming, 2013
State of Colorado, 2004
United States District Court, District of Colorado, 2004
United States Court of Appeals, 10th Circuit, 2004
State of Louisiana, 1998
United States District Court, Eastern District of Louisiana, 1998
United States District Court, Middle District of Louisiana, 1998
United States District Court, Western District of Louisiana, 1998
United States Court of Appeals, Fifth Circuit, 1998
Louisiana State University, Baton Rouge, LA, B.A. 1994
Paul M. Hebert Law Center, Louisiana State University, Baton Rouge, LA, J.D. 1998
Abbott, Simses, Knister & Kuchler, LLP, New Orleans, LA
Allstate Insurance Company – Staff Counsel, Covington, LA
Rabalais, Unland & Lorio, LLP, Covington, LA
Great-West Life & Annuity Insurance Company – In-House Counsel, Denver, CO
Affiliations and Memberships
Association of Defense Trial Lawyers

Defense Research Institute

Colorado Defense Lawyers Association

Colorado Bar Association

Louisiana Bar Association

Denver Bar Association
Adams v. Coyote Communs., Inc., 2011 Colo. LEXIS 941 (Colo.App. 2011), writ of certiorari granted in Coyote Communs. Inc. v. Adams, 2011 Colo. LEXIS 941 (Colo. 2011) (successful appeal of jury verdict against personal injury client based on error in premises liability jury instruction)
American Family Mut. Ins. Co. v. Teamcorp, Inc., 659 F. Supp.2d 1115 (2009) (regarding application of occurrence and property damage provisions in CGL policy to insurer's duty to defend and indemnify)
Saiz v. Charter Oak Fire Ins C0., 2007 US. Dist. LEXIS 67767 (D. C010. 09/12/07) (summary judgment in favor of insurer upheld in an unpublished opinion by U.S. 10th Circuit Court of Appeals in Saiz v. Charter Oak Fire Ins. Co., 299 Fed. Appx. 836; 2008 US. App. LEXIS 23659 (10th Cir. 2008))
Titan Indem. Co. v. Travelers Prop. Cas. Co. of Am., 181 P.3d 303 (Colo. App. 2007), writ of certorari denied, 2008 LEXIS 430 (regarding application of professional services exclusion in CGL policy)
Fleniken v. Safeway Transportation, Inc., 02-2389 (La. App. 1 Cir. 7/2/03), 859 So.2d 50
Teano v. Electrical Construction Co., 02-2032 (La. App. 1 Cir. 5/9/03), 849 So.2d 714
Abadie v. Marsiglia Construction Co., 02-2108 (La. App. 4 Cir. 4/9/03), 845 So.2d 564