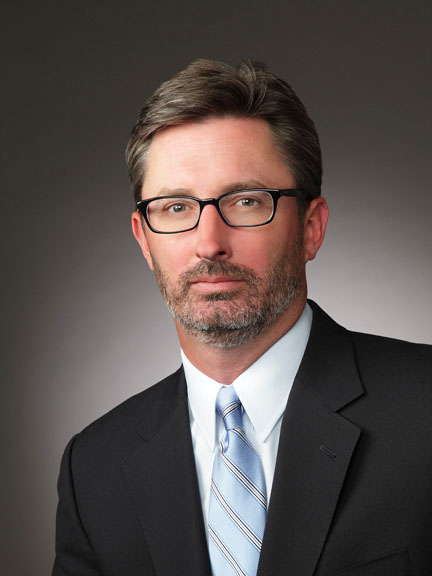 John's practice consists of a combination of insurance coverage analysis and advice, along with litigation of a wide variety of different types of civil lawsuits.  He serves as regional coverage counsel for several insurance carriers, providing coverage advice and litigating insurance coverage disputes in state and federal courts throughout the Rocky Mountain and Midwest regions of the country.  In addition, John's practice also includes litigating cases involving bodily injury, property damage and economic losses arising in different contexts such as premises liability claims, product liability claims, auto and trucking accidents, oil and gas exploration, fire losses, construction defect claims and commercial contract disputes.  John is licensed in Colorado and Louisiana, where he served as Associate Counsel for the Louisiana Department of Wildlife and Fisheries (1996-1999) and as law clerk to the Honorable Charles R. Scott of the First Judicial District Court (1995-1996) prior to moving to Colorado. He previously served on the board of directors for the Colorado Defense Lawyers Association for seven years, including as president from September 2016 – 2017, and presently serves on the board of directors for A Little Help, a nonprofit organization dedicated to supporting seniors to continue living in their homes.
Insurance Coverage and Bad Faith
Premises Liability
Product Liability
Construction Disputes and Construction Defect Litigation
Commercial Litigation
Subrogation
U.S.D.C., District of Kansas, 2018
U.S.D.C., District of Nebraska, 2016
U.S.D.C., Western District of Missouri, 2015
U.S.D.C., District of South Dakota, 2015
U.S.D.C., Eastern District of Wisconsin, 2013
U.S.D.C., District of Wyoming, 2011
U.S.D.C., Northern District of Illinois, Western Div., 2010
United States Bankruptcy Court, Dist. of Colorado, 2010
U.S. Court of Appeals, 10th Circuit, 2002
U.S.D.C., District of Colorado, 1999
Colorado, 1999
U.S.D.C., Western, Middle and Eastern Districts of Louisiana, 1995
Louisiana, 1995
Paul M. Hebert Law Center, Louisiana State University, Baton Rouge, LA; J.D., 1995
Louisiana State University, Shreveport, LA; B.A. in Political Science, 1990
Affiliations and Memberships:
A Little Help, Board of Directors, 2018 – Present
Colorado Defense Lawyers Association; Board of Directors, 2011 to 2018; President, September 2016 – 2017
Faculty of Federal Advocates
Denver Bar Association
Defense Research Institute
Colorado Bar Association
Louisiana Bar Association
Target Corporation v. Prestige Maintenance USA, LTD., 351 P.3d 493 (Colo. App. 2013)(subrogation recovery of over $700,000 in workers compensation benefits paid by Target to an employee who was injured as a result of the defendant's negligence).
Malaga, LLC, A Nevada Limited Liability Company, et al. v. Charter Oak Fire Insurance Company, et al., 11CA2356, June 13, 2013(summary judgment finding no liability insurance coverage for allegations of trespass and breach of an easement agreement affirmed on appeal).
Travelers Prop. Cas. Co. of Am. v. Farmers Ins. Exch., 240 P.3d 521 (Colo. App. 2010)(holding that injuries incurred by a plaintiff who left a restaurant and slipped and fell in a parking lot while walking to her car did not trigger additional insured coverage for liability arising out of ownership, maintenance or use of the restaurant premises).
Sheffield Servs. Co. v. Trowbridge, 211 P.3d 714 (Colo. App. 2009)(in a matter of first impression, the Colorado Court of Appeals held that Colorado statutory law governing limited liability companies ("LLCs") did not preclude application of the common law doctrine of "veil piercing" to impose personal liability on the managing member of an LLC who was responsible for improper distributions of LLC assets).
Titan Indem. Co. v. Travelers Prop. Cas. Co. of Am., 181 P.3d 303 (Colo. App. 2007), writ of certiorari denied, 2008 Colo. LEXIS 430 (April 21, 2008)(applying a "professional services" exclusion in a CGL policy to exclude coverage for liability arising out of the insured's failure to schedule an independent medical examination or pay medical bills as required under the terms of a contract with a third party).
Bainbridge, Inc. v. Travelers Cas. Co., 159 P.3d 748 (Colo. App. 2006)(applying the doctrine of equitable subrogation to allow a home purchaser to recover for damages that occurred with the purchaser's predecessor in title owned the home and finding that the duty to defend an insured builder was triggered by the purchaser's lawsuit, notwithstanding the fact that the home in question was acquired by the purchaser after Travelers' CGL policy issued to the builder had expired).
Farmington Cas. Co. v. Duggan, 417 F.3d 1141 (10th Cir. 2005)(applying exclusions j(5) and j(6) in a CGL policy to exclude coverage for damage to masonry block walls that collapsed after substantial completion but before all work called for in the insured's contract had been completed).